New Patients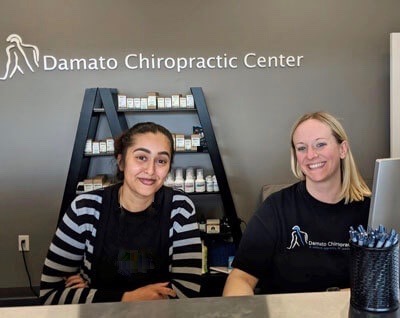 Welcome to Damato Chiropractic Center! Thank you for considering us for your chiropractic care. When you enter our warm and inviting practice, you'll be greeted by name and asked to fill out new patient paperwork if you haven't already done so online.
We've found that one of the best ways to have successful patient relationships is to explain everything in advance. The more you understand who we are, what we do and why we do it, the better results you'll enjoy.
Your initial visits to Damato Chiropractic Center are all about getting to know you and your health goals and concerns. You'll never feel rushed in our office because we take the time to listen to you and find out what's going on in your body.
NEW PATIENT PAPERWORK »

After scheduling an appointment, you will be asked to arrive 15 minutes early to fill out our New Patient Information Form and other appropriate paperwork. The doctor will complete an initial examination and will answer any questions you may have regarding your condition, or general questions regarding chiropractic care.
Depending on the doctor's findings he may request a set of X-rays to be taken of the affected area (ex. cervical spine, lumbar spine, shoulder, etc.)
This appointment takes approximately 30 minutes.
On your second visit, the doctor will review the X-rays with you along with a report of findings that includes the results of the examination and a plan of care. If you are going through insurance for your treatment, your benefits and any out-of-pocket expenses will also be explained. After all questions have been answered, your treatment will begin.
This appointment takes approximately 30 minutes. Please allow 15-20 minutes for your ongoing care visits thereafter.
Do I Have to Go Forever?
At our office, everyone has a choice. Most of our patients have achieved the best results when we continue to see them with wellness or lifestyle care that goes far beyond pain relief. Once corrected, it's easier to control flare-ups and reach your health goals. The frequency of this type of care is different for everyone, and it's your decision.
We look forward to meeting you and getting you on the road to total wellness! Contact us today to get started.
CONTACT US »
---
New Patients at Damato Chiropractic Center